DIANORGUES, low, low low prices all years long, deals, surprises, Rebate, all that near your home!
DIANE HAD THE GREAT PLEASURE OF PARTICIPATING IN A VIDEO PRODUCE BY RED BULL MUSIC ACADEMY. THE VIDEO ALSO FEATURE THE GROUP F*CKED UP FROM ONTARIO AND GUY CARBONNEAU.
IT REALY GIVES A NEW DEFINITION
TO THE WORD HOCKEY CHANT!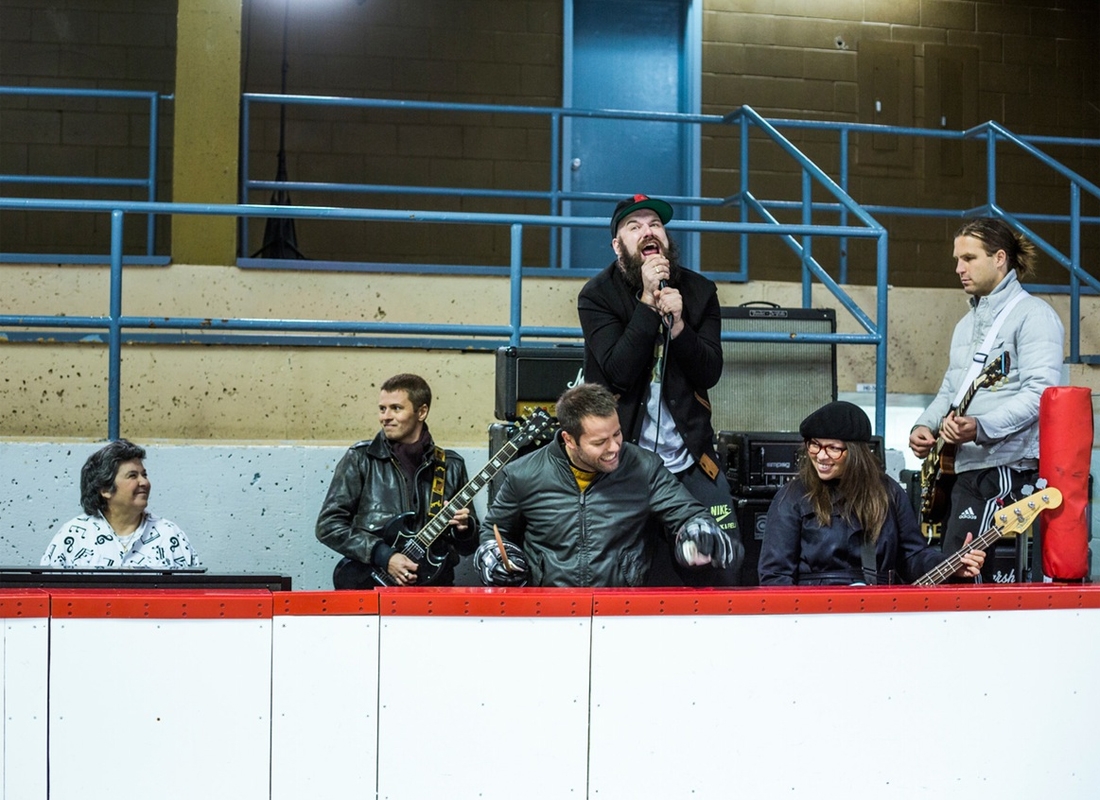 YOU CAN SEE THE VIDEO STICK AND PUNK BY CLICKING
ON THE IMAGE BELOW. ENJOY!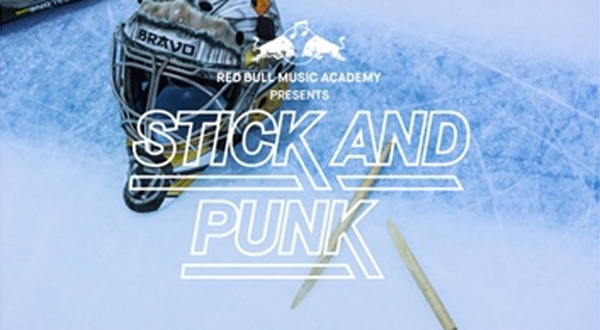 TO READ THE INTERVIEW THAT RED BULL MADE ON DIANE
CLICK ON THE PICTURE BELOW: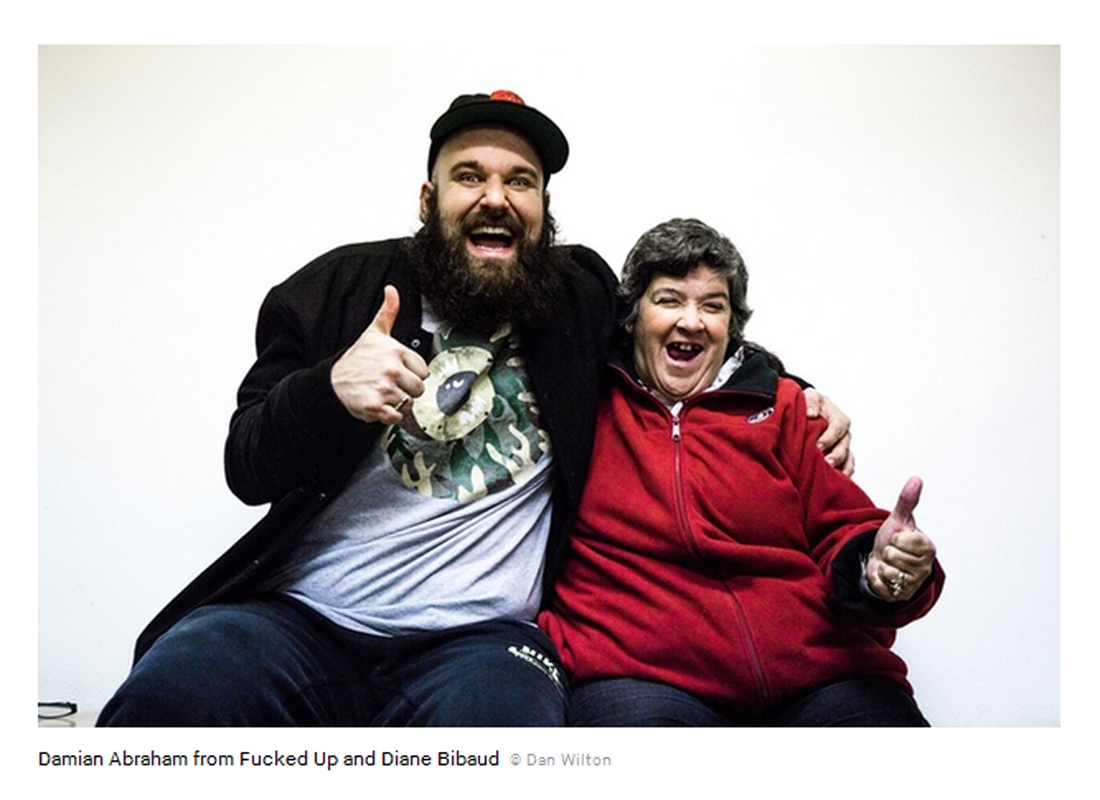 MANY THANK YOU TO THE CANADIAN HOCKEY TEAM
FOR PUTTING THIS VIDEO ON THEIR WEB SITE (See October 13, 2016)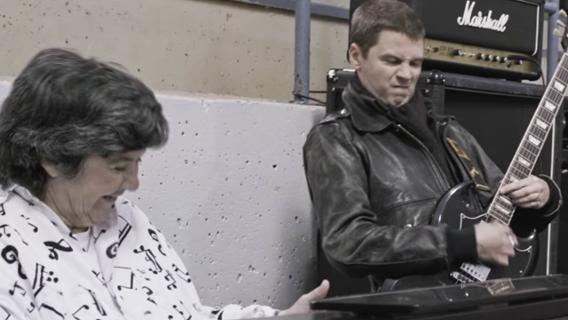 The Remarkable Story of Canadiens Organist Diane Bibaud
Overcoming a rough childhood, she's become one of the most iconic members of the Montréal franchise
A few weeks ago at a Montréal rink, Red Bull Music Academy hung out with Canadian post-hardcore stalwarts Fucked Up as they scrimmaged with hockey legend Guy Carbonneau and jammed with Habs organist Diane Bibaud to celebrate the kickoff of the 2016-17 NHL season. You'd be forgiven if those first two names overshadow your knowledge of the third one. But, even after 29 years with the Montréal Canadiens, Bibaud wouldn't have it any other way.
To the millions of viewers who catch a Habs game every season, Diane Bibaud is known only as the fingers behind those nostalgic organ tones. From high above the ice, she's been looking down at the players since 1987 with an eye toward injecting their every play with drama. Even though few could point her out in a crowd, fans expect Bibaud's soundtrack to be there at the Bell Centre, just as they expect to find popcorn at the movies. Simply put, a game isn't the same without her.
But those fingers on the keys have a life of their own, and their story is as inspiring as anything that happens on the ice. Diane Bibaud was one of the very first women to become an organist for an NHL team. Let go by her birth parents at a very young age, she's fought back from a rough childhood to become a master of her craft. When not with the Montréal Canadiens, she runs a music school where she helps over 400 students a week to pick up the joys of an instrument.
Beyond the fact that's she's seen the Habs through two arenas and the tumultuous ups and downs of numerous playoffs seasons Diane Bibaud is a fighting spirit in her own right. We sat down with her to learn a little more about her story.
Stick and Punk | Red Bull Music Academy
First off, how did your jam session go with Fucked Up?
The Fucked Up group, when I saw it on the internet, I said, "Gee whiz, they're on drugs." I was so pleased and honored after talking to them, that these guys are parents, they got kids, and they're intelligent, they got something else in life, and really, it's a big challenge for them to have a group. They're good. Very brilliant. I do respect them a lot. My experience was great.
I couldn't believe that they could make some, excuse my expression, fucked-up music, with my hockey chants. I was dying of laughter, and we had a good feeling to play together. We made a little jam session on this hockey chant, and we played a few different covers. They're very good.
Were you ever in a band before becoming the Canadiens' organist?
No, I studied piano. I did my degree at McGill University in classical piano. Then I studied organ, popular organ, and my dream also, besides the Canadiens, was to own and operate a music store with teachers [Dianorgues in Sainte Catherine, Quebec]. And I've done that, with success, for 29 years now.
Who first put you in front of an organ?
In 1968, I was sent to boarding school. I was eight years old, a monster. But in front of a piano when the nuns were teaching me, they said, "She's an angel, so you have to make her learn music." It was good for me in life. By ten, I had decided on piano. Later, I studied with a private teacher, the classical style, and I passed an exam at her house. When I was older, at McGill, I expanded for theory, counterpoint, and I got my degree.
How did you get the job with the Montreal Canadiens?
I was 27 years old. In 1985, they had an issue with an organist, and I was playing already in Ville Lasalle for the Junior Cyclones. Since eight-and-a-half years old, my dream of a lifetime was to play for the Montreal Canadiens. Every Saturday night, my father watched Hockey Night in Canada, Channel 2. So it was my goal to play for the Canadiens. I went to the management in 1985, I knew they had a little issue, so I said, "I'm here. I'm not taking nobody's place. If you're stuck, I'm here. I have the expertise, I have the experience with the Lasalle Cyclones. I did a lot of minor hockey leagues too, tournaments." They said, "Listen, it's not us, we have the agencies. So they communicated my request with the agency. I became a substitute organist, and I started doing replacements. In 1987, when the other organist retired, they asked me if I wanted the job. That's how I started for Montreal.
And it's been the same for the last 29 years?
Well, I was there from 1987 to 1992, then the organization tried to put only DJ, so they let go the organ. They phone me back in 1997 and I stayed again until 2002, then they decided again to let go of the organ and the keyboard. When Mr. Geoff Molson bought the Canadiens back, he asked for me and I went back. With pleasure. As I've always said, I think the best is to keep both, because the audience goes from 7 years to 77 years. There are time signatures too. You have to stop, go, with the referees. The DJ can do that, but not as fast. So now we go hand-in-hand, and I think everybody's happy in the Bell Centre.
The NHL considers you a legendary organist now?
I think it looks like it, yes.
Are you the longest serving organist in the league?
I don't know, but I would almost presume yes.
There were virtually no women working at that level in the NHL at the time. Was that a challenge for you?
No. To be honest, first of all, I'm an adopted kid. My eyes were crooked. I was full of eczema, and my parents always showed me that, in life, there's no race, no racism, no age, no color, no sex to a person. I'm happy like this. People have never believed in me. They used to say to my husband, "Ha, she wants to open a store. She's going to go under." Well, it's been 29 years, and I'm still here.
Many people know Marie-Claude Savard....

But do you know LA TAVERNE.TV on internet?

Marie-Claude and her cameraman visited DIANORGUES La Rock Shoppe to interview Diane and present it on LA TAVERNE.TV.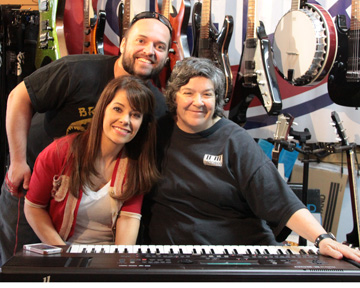 To see the interview:

https://www.youtube.com/watch?v=NFGLCMFEjWg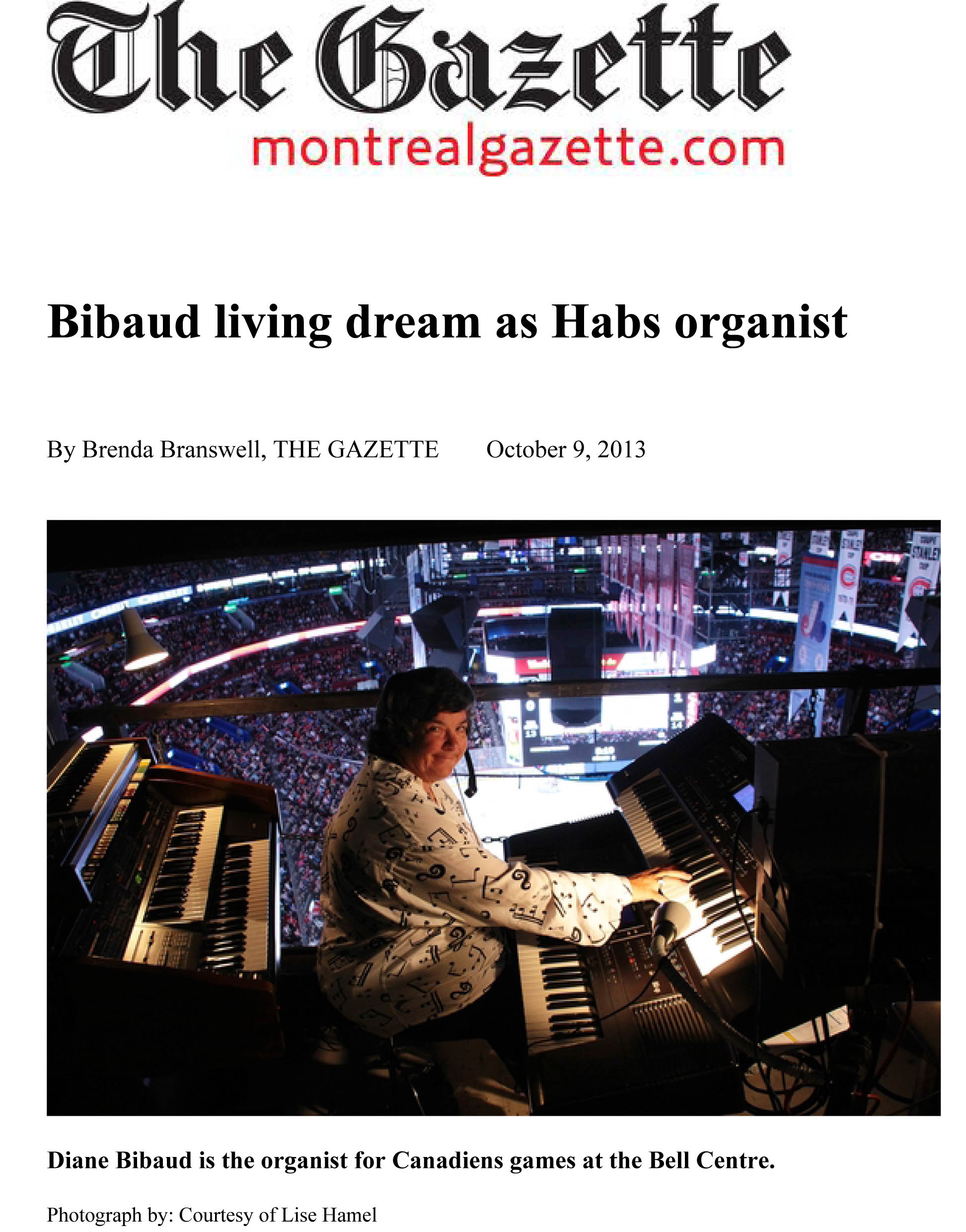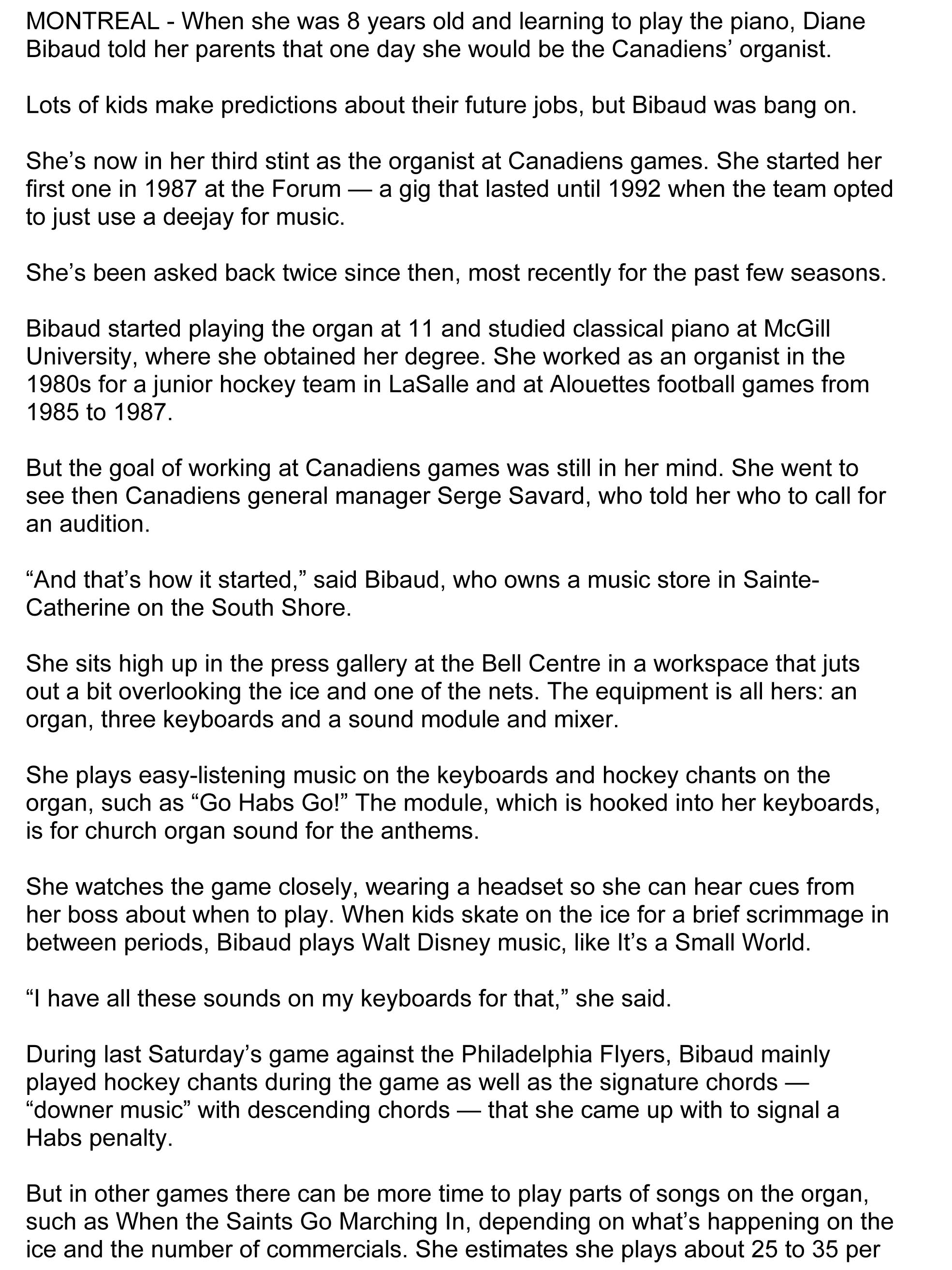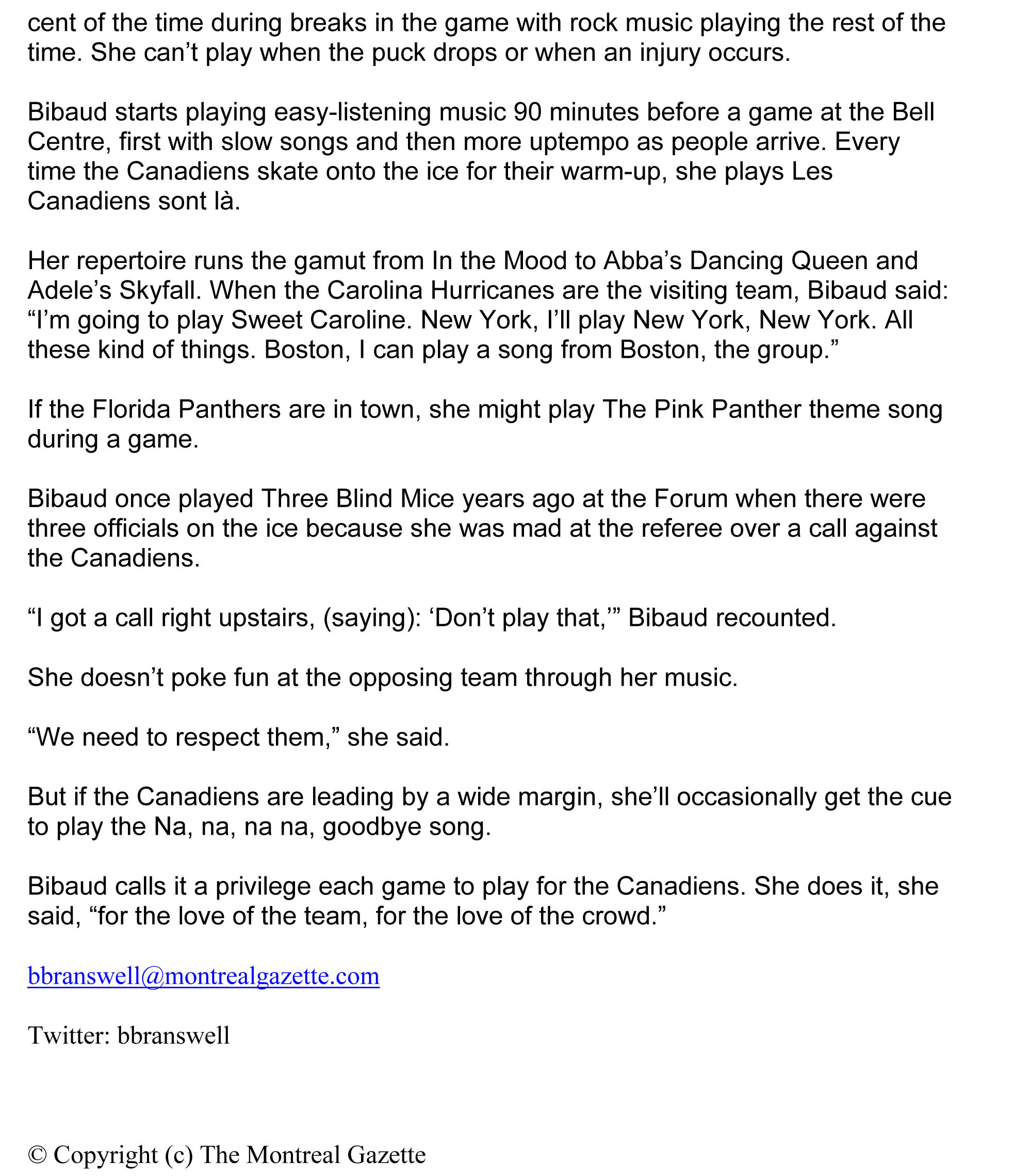 Here is the link:
We would like to address a special thank you to Mrs Brenda Branswell, journalist from the Montreal Gazette for the interest taken in the job of organist for the Montreal Canadians hockey Club. It was great working with her.
TVSO or TELEVISION SUD OUEST DE CHATEAUGUAY
Here is the interview of Diane produce by TVSO, Chateauguay
local television that you can follow on MA tv.
In this interview, Diane describes how she sees the business, what it takes to succeed...
Unfortunately, this interview is in french.
Have fun listening!

http://www.youtube.com/watch?v=6rQHWDAK-iA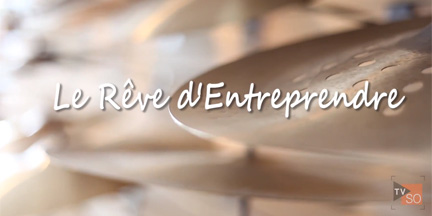 For those who are wandering what is Diane doing at the Centre bell, here is a video done by HABS TV that shortly explains it.
Enjoy!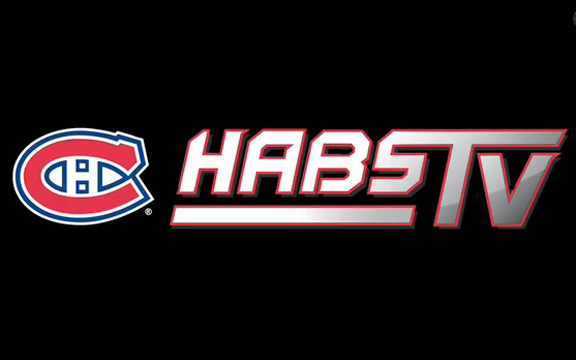 https://www.youtube.com/watch?v=l7AyXs7TRlQ
CTV NEWS Montreal: Secrets of the Bell Centre
Annie DeMelt was the fourth person to ever play the
Old Forum's organ, she toured the Bell Centre for Forbidden Montreal.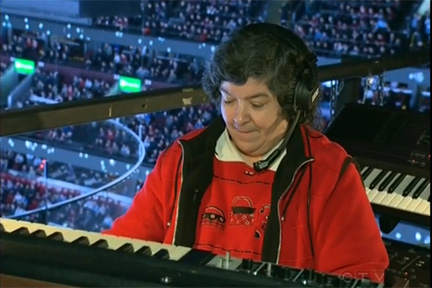 http://montreal.ctvnews.ca/video?playlistId=1.1210507
Diane Bibaud, owner of DIANORGUES THE ROCK SHOPPE has a degree in classical piano, after studying at McGill University and the Conservatory. At the age of eight (8) years old Mrs Bibaud already knew at the time what she wanted in her life. She was focused on beeing an accomplished musician for all different events teach music, also dreamed of having a succesfull music store.
Therefore between 1987 and 1992, Diane was official organist for the Montreal Canadian hockey team in the Montreal Forum, then also from 1997 and 2002 official organist for the same team at the Molson (Bell)Center. From 1985 to 1982 she has been organist for the Montreal Allouettes at the Montreal Stadium.
Talented musician, she also can be proud of having the chance to work with different renown artists like Celine Dion (Maurice Richard event), Ginette Reno, Sylvain Cossette and more But she still a very humble person.
Before opening her music store, she was consultant for Hammond organ studios in Montreal and South Shore and married an electronic technician who used to repair defective organs and amplifiers. In 1986, Diane started to teach organ, keyboard and piano at pupils houses. But she got so busy that she had to hire another teacher and open an outlet in Ste-Catherine (South Shore of Montreal).So she openned a 650 square feet store and music school. This all started January 5, 1987.
In 1989, she bought the whole building and expanded to 1750 square feet showroom and more classes.She also added guitar and drum lessons with more teachers.
In 1992, Diane decided to add a second floor to the building for more instruments displays. She also added a service department for several repairs.
Today, continously growing, DIANORGUES THE ROCK SHOPPPE works with fifteen teachers, technicians, stringed instruments maker and products specialists. Around three hundred to five hundred students come to the store for several music lessons including guitar, singning, keyboard, basse, piano, violin and digital recording. The students are from beginners to very advanced students. We can also prepared the students for GEGEP, or to pass the exams at the Conservatory or McGill University.
DIANORGUES THE ROCK SHOPPE also does repairs guitars, amplifiers, keyboards, etc... They do sound reinforcement for many different band with a sound engineer and the best equipment in the world. Their price are very competitive and they cary the most renown brands on the market like Gibson, Epiphone, Fender, Jackson, Ibanez, Takamine, Godin, Norman, Seagull, Crafter, Pearl, Sonor,Tama, Roland, Boss, Edirol, Korg, and more. The store is openned seven days a week. DIANORGUES also gave several donations like $55 000.00 (brut) to the Fondation of Anna Laberge Hospital, a few thousands the cadets, and different non-lucrative organisations.

So all this being said, you should drop in and see passionated people working in a beautifull music store and school. In the mean time, you can visit the web site to give you a little idea.
"Looking forward to help you with your musical dreams"

Diane
1105 Centrale Street, Ste-Catherine, Quebec J5C 1A2
Telephone : 450-638-4003